Go to Black Lake Resort Photo Gallery to view pictures of Black Lake.

Local union members share in the vision
We made it this beautiful to bring the best out of everyone who comes here ... leaders who combine the technical competence with social vision, idealism and commitment.
UAW President Walter Reuther
The natural beauty of the UAW Walter and May Reuther Family Education Center is apparent. Nestled on the shores of Black Lake in northern Michigan, the center is designed to blend harmoniously with the surrounding woodlands. Deer, ducks, raccoons and other creatures wander freely in its secure confines.
But the real beauty of the Black Lake facility near Onaway, Mich., is its role as an education center for the union. Envisioned by Reuther and constructed during his term as UAW president, the center draws thousands of members each year for discussions and classes on all aspects of the union movement.
Local union members create a shared vision during conferences throughout the year at Black Lake, including those for leadership, civil rights, health and safety, union women, retired workers, veterans, chaplains, the Local Union Press Association and UAW regions. UAW members form lifelong friendships as they learn how to be more effective in their workplaces and communities.
Union families learn together
Each year UAW families may apply to participate in the Family Scholarship Program at the Walter and May Reuther Family Education Center In week-long summer sessions, families learn about the union's history, goals and role in society, in fun and age-appropriate environments.
The program was a great learning experience for me, and I got a chance to work with and meet a lot of good people, said Chanetta Lee of Local 140 about her week in the Family Scholarship Program.
The atmosphere is informal and there is ample time for enjoying the beach, pool, saunas, sports facilities, fishing or just a quiet walk in the woods. Golfers will savor the award-winning Black Lake Golf Course (check www.Blacklakegolf .com for fees and special events).
Still, the most important part of the experience is growing the UAW vision and carrying it back to your locals and your communities.
All lodging, food and program costs for the scholarship program are paid for by the union. Applications are published each year in Solidarity magazine and are available at your regional office.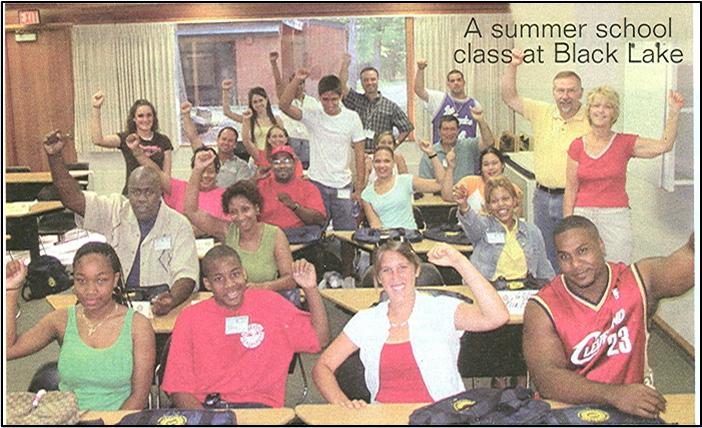 Taken from Solidarity Magazine New Member Issue 2006, Pg 18
Download:

UAW Black Lake facility.pdf